A great line-up of features at this year's ITS America Annual Meeting
First published in ITS America Preview - May 9, 2019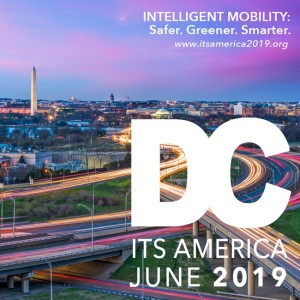 The main theme of this year's ITS America Annual Meeting in Washington, DC, being held from 4-7 June 2019, is Intelligent Mobility: Safer, Greener, Smarter, so the focus is on the future of mobility technologies and seamless mobility around the movement of people, data and freight in the 21st century. The content and scope of this event, to say nothing of the opportunities it will provide, will provide huge, and lasting, benefits to attendees. They can also be a part of the conversation that will shape an environment for safe deployment of connected and automated mobility.
The event is bristling with content. There is a packed conference schedule of executive, special interest, and technical sessions while the two headline keynote sessions will feature Jeff Klei, Continental North America President and Paul Misener, Amazon.com VP for Global Innovation Policy and Communications who will provide the keynote addresses.
Meanwhile, The Pathways to Innovation area on the exhibit floor will feature numerous industry-leading technology companies featuring case studies and solutions. The educational destination on the show floor will offer panel sessions and networking opportunities featuring the latest in mobility, IoT, systems management and more.
Also, there is a programme of ancillary meetings including the June MOD (Mobility on Demand) Forum Sponsored by AWS. ITS America's Mobility on Demand Alliance is hosting the first of what will be on-going forums in conjunction with ITS America's annual meetings, to showcase successes and tackle some of the key issues facing MOD's rapid transformation of how we move.
The 2019 State DOT Roundtable, sponsored by HNTB, brings together a panel of over a dozen state department of transportation executives in charge of ITS deployment decisions who will share their experiences, successes, failures, challenges, and other lessons learned in launching projects and preparing the infrastructure to meet and support future mobility demands.
Attendees can take advantage of the Professional Capacity Building Training: Cybersecurity course which is designed to help transportation professionals improve their understanding of cybersecurity concepts and learn more about the potential risks to transportation systems.
Then there is the Joint National Organisations Meeting: Advancing Roadway Automation Readiness meeting which brings together leaders and members from several national organisations to discuss next steps for advancing roadway automation readiness.
The Emergency Response Day will showcase technologies enabling emergency response and highlight the on-going needs and challenges emergency responders face on our roadways.
Meanwhile, the Women in ITS Annual Breakfast meeting will hear from a panel of women leading the world of transportation who will discuss the specific challenges and opportunities unique to women in a new era of mobility.
At the core of every ITS America Annual Meeting is the exhibit hall which, this year, will be open from 5-7 June and will feature an array of companies showcasing new innovative technology, products and systems. Then there's the demonstration program, a series of technical tours, Best of ITS Awards and Student Essay Competition winner announcements, to say nothing of the networking, business-building, educational and learning opportunities that abound throughout the event.
If you haven't already registered to attend the ITS America Annual Meeting, visit the website today for full information and to register.
Companies in this article