NCS signs agreement with LTA's MSI Global
First published at ITS World Congress - October 23, 2019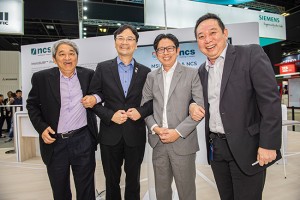 Singapore-based information, communications and tech services provider NCS has agreed in principal to provide consultancy and intelligent transport solutions to overseas customers.
NCS, part of the Singtel Group, signed a memorandum of understanding with MSI Global, the commercial arm of Singapore's Land Transport Authority (LTA), under which the company will provide services such as planning, design and project maintenance for government and transit agencies in Australia, China, Hong Kong and South-east Asia.
The organisations put their digital signatures" on iPads to seal the MoU during a ceremony at ITS World Congress on Wednesday this week.
NCS CEO Ng Kuo Pin says the company was "pleased and honoured". While MoUs are not binding, he says he hopes "we will make something happen together".
MSI MD Sim Wee Meng says the partnership taps into both parties' experience "to offer commuters innovative solutions for their transportation needs".
NCS will use AI, MaaS, cellular Vehicle to Everything connectivity and analytics to help digitalise the LTA and "improve commuter experience and engagement", it says.
Booth 259
Companies in this article