Efficient thermal mapping system from Topcon
First published at CONEXPO-CON/AGG - March 13, 2020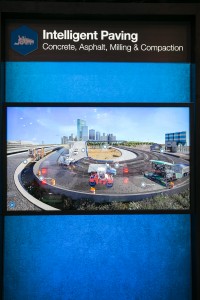 Topcon Positioning has developed a sophisticated thermal mapping system that can detect cold spots in the mat.
The mapper logs temperature readings behind the paver as the paving is in progress. It then provides a visualisation to the operator in real time of whether the mix falls within a pre-defined temperature range, and if any segregation is limited within specifications. The system also provides accurate compliance reporting, providing real-time kinematic (RTK) positioning accuracy.
This is important, as the temperature of the cold spots may be too low to allow proper compaction and would be first to fail if left unattended. However, identifying these even as the mat is paved means they can be removed and replaced while the paving crew is onsite, a significant cost saving compared with having to bring back equipment and personnel and closing the road section later on.
The system generates data reporting files to download for applications such as DOT compliance through an interactive Pavelink module, the Topcon cloud-based logistics application for asphalt paving. Murray Lodge, senior vice president of the firm, commented that DOTs are now asking for contractors to use this technology, due to the quality assurance and overall cost reduction it can provide.
Lodge commented, "Pavelink allows contractors to monitor the entire paving workflow from the batch plant, mixing plant, trucks, to the paver, to the rollers. By connecting the entire process, it allows the contractor to have full control over projects in real time and make adjustments along the way, instead of after the fact as is so often done with conventional methods. Now, bringing in the heat sensor system into that workflow, we are giving contractors more resources to meet the specifications demanded today."
Stand N252
Companies in this article