Trust vital for companies to prosper says software expert Autodesk
First published at CONEXPO-CON/AGG - March 13, 2020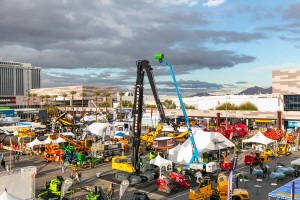 Construction companies with the highest levels of trust perform significantly better on crucial business metrics than those that do not meet that standard, a new survey has found.
The study from construction software specialist Autodesk and management consultant FMI Corporation found that "very high" levels of trust within a company can equate to millions of dollars of additional extra profit – particularly valuable when margins in the sector are increasingly thin. However, only 37% of the 2,500 survey respondents classified their companies as having top-ranking levels of trust.
"We always knew that trust played a major role in the industry, but we didn't know how much," said Christine Acker of Autodesk's product marketing department, speaking at CONEXPO-CON/AGG 2020. "Trust isn't unique to construction. It's core to it, but it's always been regarded as a 'nice to have'."
There are clear benefits to achieving that top level of internal trust – characterised by factors such as transparency, good internal communication and a company philosophy that emphasises seeking solutions over allocating blame when things go wrong.
Benefits include more repeat business, better employee retention and higher levels of operational success, the survey found.
Jay Bowman, managing director of research at FMI, noted that 57% of firms in the 'very high' trust category achieved a benchmark 80%-plus in terms of repeat business across their portfolios, compared with only 42% for firms with 'above average' trust levels. The highest trust organisations working with repeat clients could expect gross margins 2% to 7% higher than similarly sized companies with only 'above average' levels of trust, the survey suggests.
And with the search for new employees taking up increasing amounts of management time, there were significant benefits to being in the top trust category, where 56% of construction professionals chose to stay in their positions, compared to only 32% at 'above average' companies.
Stand S62421
Companies in this article